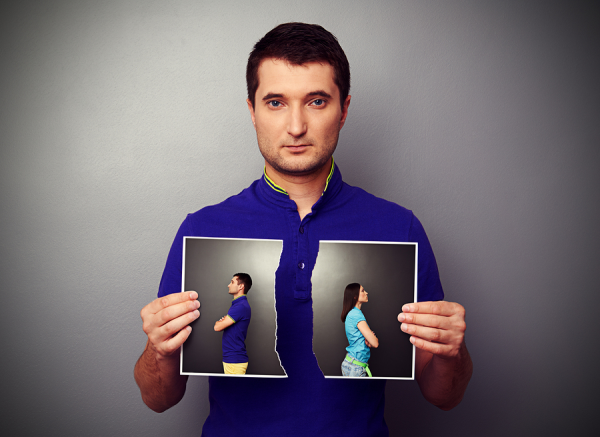 You just got your final divorce papers. The turmoil and chaos of the separation and divorce are over. Now what? Divorce is a major life changing event. It disrupts almost all aspects of life including living arrangements, schedules, family relationships, friendships, finances, and work life. Once everything is final on the legal side, you may find yourself a bit lost and wondering what to do next. It is a common situation faced by many men in the aftermath of a divorce.
Work through any lingering divorce issues
Post-divorce is a great time to reinvent yourself and your life. However, before making any life-changing moves, it is critical to work through any lingering issues you may have from the divorce.
Give yourself time to grieve. Divorce represents the loss of a partner, of dreams, and of a planned future together. Working through the emotions associated with that loss allows you to face the future without emotional baggage related to the divorce.

Work through your emotions. Bottling up and ignoring negative emotions from the divorce is not healthy and will only shadow your future. If you need help processing emotions, a good therapist can help.

Don't let self-doubt become a problem. Divorce can leave a man feeling like a bit of a failure. It is important to work past those doubts and work on building confidence levels.
Get re-acquainted with yourself
Who were you before you got married? As a married man, it is likely that you decided to give up hobbies or pastimes you enjoyed as a single man. Now is the time to become re-acquainted with your single self.
Take time to try your old hobbies and pastimes. You may find that you really enjoy getting back into the swing of things. You may also find that your interests have changed with time. Either situation is okay. It is a re-learning process.

Get in touch with your old friends. Many times, a married man will not have much time to spend with single friends. Make an effort to get back in touch with your single buddies. This will open your social life up while also letting you see if your old friends are still a good fit with your post-divorce self.
Try something new
As you start to get into the swing of living life as a single man again, it is time to try some new things.
Update and refresh your look. You don't need to change your style. But, getting some new clothes can help you feel like a new man. Buy things you like, with no filtering by a partner.

Make a list of things you would love to do. It can include going rock climbing, taking a cooking class, going on a trip, or just about anything you can think of. Take one item on your list and do it. Once you get one of those items off the list, you are likely to want to do another one, then another one.
Reaffirm who you have become
Being married will change a person, especially after years of being in a committed relationship. Once you are single again, you need to integrate the person you were when you were married with the person who is now facing the future as a single person.
Stay in contact with family. It is easy to become socially isolated while going through the emotional turmoil of divorce. Make time to go to family gatherings. If you are a parent, make it a priority to spend quality time with your kids. Make sure they are as secure as possible in the divorce aftermath.

Don't avoid the holidays. It is easy to associate the holidays with memories from your married life. After a divorce, it is important to make your own traditions in regards to the Holidays. If you have the kids for the holidays, create your own traditions with their input.

Embrace your roles in life. It is natural for married couples to split roles. One may be better at cooking. The other may be better at finances. If you were not the one who did the cooking, take time to embrace that role. If you didn't handle the finances, now is the time to do it.
Get out and be social
It is easy to become a social hermit after a divorce. Getting out and socializing can often help the healing process.
Don't be afraid to go out alone. You don't have to be part of a couple to go out for casual fun. This can open up the opportunity to strike up conversations and to pick up new friends.

When ready, consider dating. This does not mean you are looking for a new permanent relationship. It is opening you up to the fact that other singles are out there. Try dating people outside your normal comfort zone.
All of this will help you transition from being a newly divorced man to someone who is embracing a new life. It is not going to happen overnight, but it will happen.