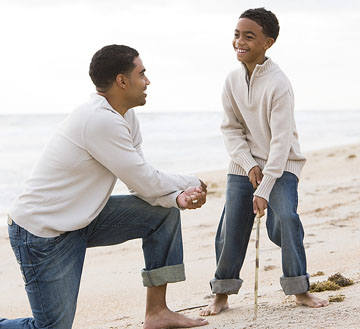 Divorce and separation are naturally hard on children, and parents should do all they can to protect their children from the pain of the changing family dynamics. It is very important that your children know how much you love them, and that you create some tangible, precious memories for them to hold in their hearts for the rest of their lives.
One of the ways to accomplish this is to plan fun and exciting activities with them. Living in Florida's warmer climate gives you a huge variety of exciting adventures to choose from at any time of the year. While some of these will require money to participate, there are also many free options to choose from. No matter how your finances look, try to do a variety of things that appeal to your children's interests. Make no mistake; it is that one-on-one time with you that means the most to your children and to your future relationship with them.
If You Live in North Florida
Take a train ride from the Amtrak station in Jacksonville to downtown Winter Park. This fun filled 2 1/2 hour ride will bring your dear ones to an enchanted place just outside of Orlando full of dozens of quaint little shops and restaurants.

Marineland Dolphin Adventure near St. Augustine is a memory your child will never forget. Be sure to see Nelly, the oldest dolphin born from human hands.

St. Augustine, the oldest city in the United States, has dozens of fun and exciting places for you to bring the kids. From the Alligator Farm where feeding time is an adventure of its own (not for the faint of heart), to the Castillo de San Marcos, where your children will become knights, to the Bridge of Lions where they can hop aboard the pirate ship "The Black Raven," and create unforgettable memories.

Catty Shack Ranch Wildlife Sanctuary will be thrilling as you observe the big cats in their natural surroundings. Especially interesting is feeding time at 7:30 PM when they devour over 450 pounds of meat.

Watch the Mermaid show at Weeki Wachee Springs for a real-life version of The Little Mermaid.

Crystal River on the Gulf Coast is where you can swim with manatees in the winter.
Central Florida
Black Hammock Adventures on Lake Jessup has free bird and live alligator exhibits.

Lake Eola Park in downtown Orlando has 43 acres of recreational area for you to picnic along the shores, enjoy a free concert at the amphitheater, and so much more.

Bring the kids camping at Disney's Fort Wilderness Resort. You can even roast marshmallows with Disney characters for free.

LEGO Imagination Center in Disney's marketplace is a huge 4400 sq. ft. space for children to explore and build to their wildest imagination with Legos; and it's all free.

Disney's Boardwalk has free live entertainment in the evenings, including magicians, fire shows, and comedians.
South Florida
Coral Castle Museum in Miami has been featured many times on television.

Lowe Art Museum is located on the University of Miami campus, featuring over 5000 years of art.

Xtreme Indoor Karting is the fastest indoor go carting facility in the country. Located in Fort Lauderdale, it offers 120 video games, and a half mile track loaded with fun!

Everglades Alligator Farm in Florida's Everglades has an exciting airboat ride, and you can see their famous 14 foot "Grandpa" alligator, along with over 2000 other alligators.

Jungle Island in Miami boasts a wide variety of rare and exotic wildlife, birds, monkeys, and flora.

IGFA Fishing Hall of Fame and Museum in Dania Beach, Florida, has the ultimate fishing experience. Feel the excitement that generates from your fishing experiences as you view the new 60,000 sq. ft. building and four-acre wetland area.

See the Key West Aquarium with exotic fish, giant sea turtles, sharks, and more, all native to Key West, Florida.

Check out the Miami Science Museum with its Smithsonian Expeditions. Tots will love the Gravity Playground. Kids will be thrilled to climb the rock wall, play virtual basketball, or relax and enjoy the sights of the planetarium.
Kenny Leigh & Associates, your Ft. Walton child custody attorneys represent men only in family law cases and have offices all over North and South Florida in Jacksonville, Daytona, Fleming Island, Gainesville, Fort Walton Beach, and Boca Raton.