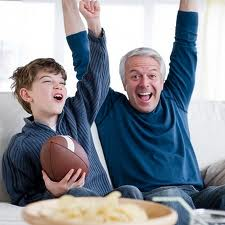 The roar of a crowd cheering on their favorite football team seems like a simple pleasure in life. Having gone through every phase of the playoffs, your team is now facing a powerful opponent who made it over every hurdle to get to compete in the Super Bowl.
It's undeniable that the passion for the game can be contagious, and, as a father, your drive reverberates through the relationship with your kids. A time to connect surrounding the difficult time a divorce causes. A time to share passions. A time to create memories as the new version of your family. You can make that big game a special one for not only you, but for those that you love as well. Although most people would claim that you'd have to attend the game to make it feel special and get full enjoyment out of the game, you can be certain that this is not always the case.
As a divorced dad, you can make it very special, whether the kids are living with you, or just came over for a visit. With some simple, yet key, preparations, you'll enhance the experience even further while watching the game from home. Have a feast! What better way to make memories with your children, than to put together some great Super Bowl dishes that keep the mouths moving and stomachs full during the game. No, you don't need to be an expert in the kitchen. We look at some recipe ideas just for you that will make any dad look good with very little effort.
How to Select the Correct Dishes for the Game
Keep it simple.

Stay with bite-sized (kid-sized) portions.

Choose recipes that are quick to prepare and easy to clean up.

Consider the likes and dislikes of your guests (your kids!).
Popular Choices for the Super Bowl
Taco Meatballs: These are great as an appetizer and easy to pop into your mouth.

Chicken Wings: These include Buffalo and other styles, but consider using a sweet sauce for the kids.

Various Chips, Dips, and Spreads: Pick your favorites and include a variety.

Hot Dogs, Wieners, and Frankfurters: You can never go wrong with this option.

Spare Ribs: This is a favorite for family huddles in front of the television set.

Pizza Recipes: Yes, you can make your own quick mini pizzas with everyone's favorite toppings. These are especially kid-approved.
Start with the most important question. Do you have all the ingredients at home or do you need to dash off to the supermarket? It may seem obvious, but make sure that your cable includes the channel on which the game will be broadcasted. Of course the snacks for the big game are by far the most interesting aspect of the game, outside of the game itself.
Chips and dip
You can use any type of chips. Preferably you should stick with tortilla chips, which are firmer and easier to pick the dip up with. These chips are also great because they enhance the taste of the dip. Ingredients for a really tasty dip:
15 ounce can of black beans, drained and rinsed

½ cup of salsa

tbsp of chopped fresh cilantro

1 tsp of olive oil

1 tsp of sugar

15 ounce can of sweet corn, drained and rinsed
Mix it all together except the cilantro and olive oil which will be added just before the dish is served. Chill in the refrigerator.
Hot Dogs
What you will need is hot dog buns and franks. Extra items like onions, relish, and shredded cheese are optional, but they are really tasty and make it seem like you know your way around the kitchen. Make sure you have ketchup and mustard, too.
No matter what your preference is, make sure that you enjoy the time with the kids. Include them in the preparation process ,if that is possible. A lot of bonding takes place in everyday tasks and activities, such as cooking and sports. Be creative and add your favorite taste. Ask the kids what they prefer. When everything has been prepared, then you can sit back and enjoy the game together.
Kenny Leigh and Associates is a family law firm that represents men only, with six offices in North and South Florida: Jacksonville, Fleming Island, Daytona, Gainesville, Fort Walton Beach, and Boca Raton.