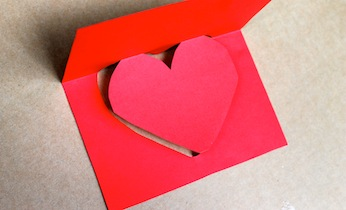 With a pending or completed divorce, Valentine's Day is up there with anniversaries and birthdays when it comes to heart wrenching memories. It's a holiday based on love, and in many divorce cases, it can be an unpleasant reminder of the love that has been lost. Thankfully, Valentine's Day can also be a great time to remember the perks of being single, and it's a great opportunity to spend some time with your children. Try some of these seven Valentine's Day activities and forget the woes of being single on the day designed for couples.
1. Relax and Treat Your Kids
Why deal with the stress and angst of being single by exposing yourself to the love-infused public? Instead, just stay home and treat your family for the day. Cook their favorite meal, watch a good movie and break out the special treats. Treat your kids like royalty and play them up as the masters of the day; their wish is your command. Celebrate the removal of the little annoyances that led to your divorce, or ignore your past relationship entirely.
2. Host a Photo Shoot
It's easy to rig up a few Valentine-themed props, from pink clothing to heart decorations. Have your children select their favorite items and arrange them in fun ways. Take plenty of pictures yourself, or bring them to a professional studio for some more detailed shots. Enjoy the activity; you can deal with your child custody attorney in Ft. Walton, Daytona or one of the other locations tomorrow.
3. Date your Daughter
A divorce may mean one love of your life is gone, but if you have a daughter, you always have her. Treat her to an age-appropriate day on the town, visiting the zoo or mall, eating out, and enjoying each other's company. Take the time to show you're a great father and it may even help you in your dealings with a child custody attorney in Ft. Walton, Jacksonville, Boca Raton or elsewhere.
4. Volunteer
Maybe you can't get over the single life. Maybe Valentine's Day is just too special in your memories to move past. Why not take the time to volunteer with your community? Soup kitchens, animal shelters and local non-profit organizations can always use a helping hand. Your kids can entertain the attention-starved animals, for example, while you do a bit more heavy lifting. You build up community service, gain connections with the people serving the community, and help those most in need during the season. Some volunteering opportunities aren't appropriate for young children, but there's always something you can do with them around the help.
5. Have a Craft Day
Arts and crafts are a great way to keep children occupied at home, and Valentine's Day is a great theme. Pull out all the stops with the craft sticks, yarn, glitter and construction paper. If crafting isn't quite their thing, try baking or cooking instead. Getting your kids to help with cooking dinner is a great way to keep yourself involved in their life fresh off of a divorce.
6. Visit Other Singles
Even though it may not seem like it on Valentine's Day, you're not the only one living the single life. Chances are you have a neighbor or two without someone to love. If that's not the case, maybe you have some single relatives who might enjoy your company. A cousin, mother, or grandmother lacking their own husbands will certainly appreciate a nice visit from someone who cares. Try combining this with a day of crafting or baking with the kids, and bring them around to distribute a little love.
7. Movie Night
It's always a good idea to spend time with your children, even in the midst of a painful divorce. They will appreciate it, and depending on their ages, it helps lessen the pain of that divorce. Valentine's Day is a great time to bring your children home for a night of fun and entertainment. Make Valentine's Day themed desserts and snacks, settle down for a romantic comedy or completely unrelated movie, have a pillow fight and otherwise enjoy the company of your children. It will help in the eyes of the child custody attorney in Ft. Walton, Jacksonville and all of North and South Florida. It will also help you enjoy yourself without your ex.
Valentine's Day is a hard time on everyone going through divorce, but it doesn't have to be painful. Enjoy the day in a way that makes sense to you, and above all, enjoy your children and other positive relationships.